All In One Diapers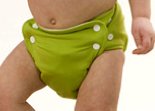 All in one diapers, or AIO's are the only one piece diapering system. They consist of a water proof outer layer and a sewn in absorbent soaker. The outer water proof layer made of PUL, or polyurethane laminated fabric, acts as the diaper cover. The absorbent soaker is either made with microfiber, cotton or bamboo. Some AIO's have a stay dry inner made of suedecloth or microfiber. These fabrics keep your baby's skin dry while holding all the wetness into the diaper. All in one diapers will either have the soaker sewn internally into the diaper, or sewn into the top of the diaper. A diaper is only an all in one if the entire system is attached.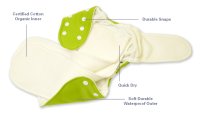 How Do You Use An AIO
AIO's are the easiest cloth diaper to use. They are the most like disposables of all the cloth diapers out there. There is no stuffing or removing inserts or putting a cover over it. It's everything you need in one. You simply put on your baby and go.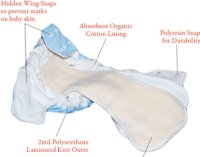 Not every all in one is made equally though. The All in one diapers with internal soakers take a long time to dry while those with partially sewn in soakers have faster drying times. I feel that the AIO's made with cotton are much more absorbent than their counterparts. AIO's with microfiber have a smaller soaker so the diaper remains trim and in my opinion they hold as much. Bamboo can be a good choice, but again I think it depends on the soaker size for how much it can hold in absorbency.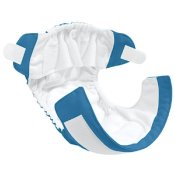 Pocket All In One's
A pocket AIO is an all in one diaper with a pocket built in. It is a cross between a pocket diaper and an all in one. These are really nice because you can use the diaper as is, or add more absorbency if you need to use it for longer periods of time. This means you can use your all in ones over night or on long car trips. And you can turn the diaper inside out to cut down on the drying time. BumGenius makes great pocket AIO's.


Easy As It Gets!
AIO's are great diapers for day care and babysitters. These diapers are so easy to use they wouldn't intimidate anyone. They would be perfect for someone just learning how to use cloth because they are so easy and convenient. And many self proclaimed lazy moms choose these diapers because there is no stuffing or having to use a cover. If you are looking for some extemely easy to use, then these diapers may be for you.






Return from All In One Diapers to Cloth Diaper Connection