Cloth Diapers: How To Get Started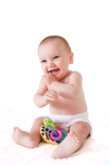 How To Choose The Right Diaper
Choosing the right diaper for you and your baby is a lot of work! There are so many different types of cloth diapers and they are all very different. This guide will help you understand cloth diapers and how to choose the best one for your lifestyle.


Getting Started Using Cloth Diapers
How many cloth diapers do I need to start? Where do I begin? It can make your head spin trying to get started! This handy guide will help you get started!


There are so many things to learn when it comes to using cloth diapers. So many questions come to mind! Newborns seem to have a whole set of rules all to themselves! As long as you are prepared for what to expect when your newborn arrives you shouldn't have to worry.


Return from PUL Diaper Covers to Cloth Diaper Connection