Fitted Diapers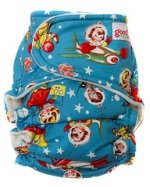 Fitted diapers consist of a body of fabric with an absorbent soaker which can either be sewn internally into the diaper or that lays in or snaps into the diaper. They have elastic in the legs and back of the waist, which is great for containing messes and makes them very stretchy so it will have a nice range in size. Fitteds wrap around your baby and are fastened with either snap or Velcro closures and require a water proof cover.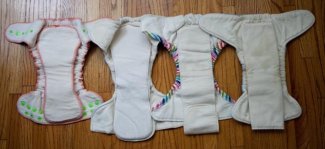 The Big Wide World of Fitteds
Fitted diapers are probably the cloth diaper with the widest variety of options to choose from. You can have a very basic fitted made of cotton or flannel and a sewn in soaker, or you can have a very expensive fitted that is made with bamboo velour and a snap in soaker with an additional doubler.
A basic fitted will usually be about $9-10, nice fitteds with bamboo are around $20, and one size fitteds are usually $25-30. What makes a fitted so expensive? Price is usually determined by the materials used and the amount of time it takes to make the diaper. A diaper made with flannel and a sewn in soaker is going to cost less because flannel material is very inexpensive and a sewn in soaker is less time intensive to make. Bamboo is much more expensive and snap in soakers take much more work to make.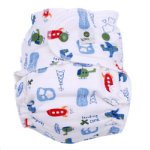 Whats to love about fitted diapers? Well they are more absorbent than prefolds and require no folding. Not to mention fitteds often come in cute prints, making them almost irresistible. I have to admit I have had quite an obsession with collecting prints when I was using fitteds. There are so many adorable prints that it's hard not to want them all!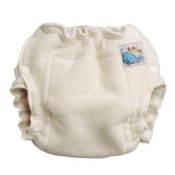 Side Snapping vs Front Snapping
I often see moms ask what the difference is between a side snapping fitted and a front snapping fitted. The main difference is fit. A side snapping fitted has two rows of snaps on the wings, making it more adjustable. If your baby has a small waist and chubby thighs, you can snap them so they are smaller in the waist and bigger in the thighs. A side snapping fitted can also be trimmer in front because the bulk of the closures is on the side. One of the more popular side snapping fitteds is the Motherease Sandies.
Another difference is that with front snapping diapers you can get "wing droop". Wing droop is when the wings of the diaper begin to sag so they hang out of the diaper near the thighs. This only happens when you don't have a good fit with the diaper and usually isn't a problem with side snapping fitteds.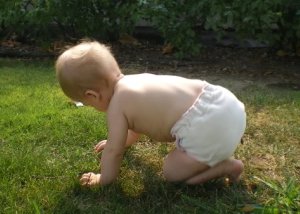 One Size Snappiable Fitteds
One size snappiable fitted diapers have become very popular in the last year or so. These diapers are mostly made by WAHM's (work at home moms) and can be found on Hyena Cart and Diaper Swappers WAHM board. A one size snappiable is a fitted that is made to fit through birth to potty learning and has no closures. Instead you use a Snappi or pins to fasten it. The rise is folded down to adjust the size and because there are no closures these diapers are very adjustable. They often come with two sizes of doublers, one small and one large, to accommodate different sizes.
These diapers area a little harder to get because they are made by a WAHM and not a manufacturer. You have to be quick to snag one when they are stocked or email the WAHM to get a custom slot to have some made for you. I have to say I have bought many items from WAHM's and I have gotten some of the most beautiful, well made items you can buy. Always worth the wait!



Super Absorbent and Super Cute!
While fitteds may cost more than other diapers, many moms feel the price is well worth it. Fitteds are absorbent, soft, and cute. If you find a really absorbent fitted you can use it without a cover and enjoy the cuteness. And they are very easy to use, which is a plus to dad's who are intimadated by prefolds or flats. All in all, I think fitteds are great diapers and a wonderful investment.



Return from Fitted Diapers to Cloth Diaper Connection