Fleece Diaper Covers
Fleece diaper covers are a nice alternative to PUL and wool cloth diaper covers. Fleece is more breathable than PUL and less expensive than wool. Although fleece is a man made fabric, using it as a diaper cover can give you some of the same benefits as using a wool diaper cover. For instance, fleece is breathable, very durable, and can retain wetness. It is also half the price of wool covers. Fleece diaper covers are great even in the summer. I know it sounds hot and awful, but it really isn't. Fleece is highly breathable! There is one big difference between fleece diaper covers and wool covers - most fleece covers cannot be used over and over again. If fleece gets wet it can smell like urine and will have to be washed. Really good fleece can get a little wet and after being air dried can be used again though. Cheap fleece which is pretty thin is not good for more than one use. Fleece diaper covers don't need any special laundering though - just throw them in with your cloth diapers and wash.
When using fleece for diaper covers, it is important to always use 100% polyester fleece. Otherwise it will not work well at holding the wetness in - it will just leak right through. One of the most popular types of fleece used for diaper covers is Malden Mills fleece. They make Wind Pro and Polartec fleece - some of the most durable fleece that is very water proof. It's important to use good quality fleece when using it as a diaper cover.
Fleece diaper covers come in a wide variety of styles. Wraps, shorties, longies and more, just like with wool. I think fleece works great for a diaper cover if you are on a budget. I have made my own fleece shorties and longies when I was on a small cloth diapering budget and loved them. You can find some beautiful WAHM made fleece diaper covers starting at $10 for a soaker.



Wraps
Wrap style diaper covers are just like they sound. They wrap around the diaper, are made with elastic in the legs and back and have either aplix or snap closures. Fleece wraps can also be used at night with your night time diaper for a great breathable night diapering system. Fleece diaper covers work almost as well as wool at night. Fleece wraps are trimmer than fleece soakers so they will fit under clothing.



Soakers
Soakers are made to wrap around the diaper and cover only the diaper area. These covers pull on and have not closures. Fleece soakers are not very trim though, so they will not fit very well under clothing. These fleece diaper covers will run about $5-$20.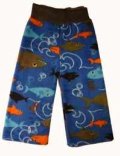 Longies
Longies are like a diaper cover and pants in one. You pull them on over your diaper and there is no need to add a cover or pants to your outfit. You can find great colors and patterns and match them to cute shirts making some really adorable outfits. Not only that, but it will keep your little warm warm and cozy winter long. Prices normally range anywhere from $8-$25 for a pair of fleece longies.


Shorties
Shorties are a cover and a pair of shorts in one. You can use them all through the warmer months or pair them with baby leggings for when it gets cooler out. Just like longies you can find super cute colors and patterns and match them to adorable shirts. They will run in the $8-$15 range.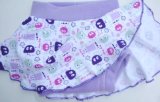 Skirties
A skirty is like a soaker with a skirt sewn over it. They are super cute and fun! You can find skirties that have longies sewn in underneath instead of a soaker or you can pair a skirty with baby leggings to look like tights and a cute shirt for an adorable outfit. Wool skirties can range anywhere from $12-$20.

How To Measure For Fleece Diaper Covers
When buying fleece diaper covers you will want to make sure you have a well fitting and comfortable cover. Most fleece diaper covers are WAHM made and will have specific measurements for each size. You can even get a fleece diaper cover made just for your child's measurements. To ensure the correct fit you will want to measure your baby to find their rise, waist, thigh and inseam. It's a good idea to give a little extra room in the rise and hips with fleece so that your child has enough room to move around because fleece is not stretchy.
Here is how you do it:
Waist - Take your measuring tape (the flexible kind that is used in sewing. You can find these at any fabric store or WalMart type store) and wrap it around the waist, slightly under the belly button. This will be how wide the waist of the cover needs to be.Hips - Wrap your measuring tape around the fattest part of the diaper, in the hip area. Thigh - Wrap your measuring tape around the fattest part of your child's thigh. This measurement will also help shorties/longies drape well over the leg.Rise - The rise measurement is going to determine how high the cover goes up the waist area. Take the measuring tape starting at the top front of the diaper, then take it through the crotch and up over to the back top of the diaper.Inseam- This will determine how long your longies/shorties will be in the leg. From the crotch of the diaper to the ankle where you want the leg to fall, or from the crotch to the knee or wherever you want the shorties to fall.




Return from Fleece Diaper Covers to Cloth Diaper Connection